Posted on 20th June 2019
Freedom Wheels are delighted to announce that we are the official charity partner for Spring Cycle on Sunday, 13th October.
Register for the event or sign up to fundraise today and help children living with a disability, like Lila, achieve their dream of cycling and more.
Click to Register
Click to Fundraise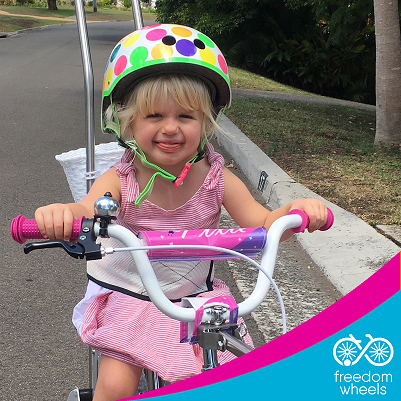 Lila is a determined 4-year-old with a big character and light-hearted attitude to life. Lila was born with two major heart conditions and underwent her first cardiac surgery at 19 hours old. After a challenging 12 months, Lila was diagnosed with CHARGE syndrome.
She has difficulty with balance and her hearing and peripheral vision are also affected. Because of this, physical activities are a bit of a challenge for Lila but she is always determined to have a go.
Lila's mum, Natalie said she cried tears of joy when she saw Lila riding for the first time, 'I was super happy for her! Lila doesn't see her bike as being different, she sees it as, her special pink, fairy bike and she can ride it with confidence just like her brother and cousins do with theirs!'
Click to Register
Click to Fundraise
No bike? No problem!
Check out the following companies that will rent you a bike for the event so you and your family can all take part!
Re-zycle 
www.re-zycle.com
Quote 'Freedom Wheels' for a 40% discount on a weekly bike rental.
Contact:
Neil Soderland
02 8003 4743 | 0407 417 531 | neil@re-zycle.com
Blue Bananas Bike Hire
www.bluebananas.com.au
Every 5th bike free! Quote 'Freedom Wheels' and the Spring Cycle event for this offer!
Contact:
Tilly
0422 213 574 | tours@bluebananas.com.au
Manly Bike Tours
www.manlybiketours.com.au
Pay only $38 for the day! Quote 'Freedom Wheels' and the Spring Cycle event for this offer! If big groups are available, pick ups and drop offs can be arranged for an additional cost.

Contact:
Francisco
02 8005 7368 | info@manlybiketours.com.au
Livelo
www.livelo.com.au
Free delivery to any CBD Hotel.
Contact:
Matthew Whitmore
0417 672 826
Bike Hire @ Sydney Olympic Park
www.bikehiresydneyolympicpark.com.au
Contact:
Max
02 9746 1572